The Easy Care BunkSox Mattress Cover & Sheet
---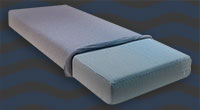 The BunkSox is a handy mattress cover and/or bottom sheet for boats, RVs, dorms, homes and camping. It's better than a standard boat or RV sheet because it never comes untucked.
They fit almost any bunk, including a V-berth (check out the BunkShort). BunkSox are the perfect choice for boat bedding, RV bedding, marine bedding or sailboat bedding. If you're looking for dorm bedding, use an easy to clean BunkSox instead of a bottom sheet.
A Breakthrough In Bedding For Boats & Fishing Vessels
If you've ever wrestled with bedding that doesn't fit your bunk or found yourself sleeping on a filthy mattress, the revolutionary BunkSox is for you.
It takes less than thirty seconds to slip on. When properly tucked-in, a BunkSox mattress cover stays in place; no more waking-up in the middle of the night with sheets and covers all over the place.
The affordable BunkSox only costs $44.98. They come in three convenient widths: Small (24 to 30 inches), Medium (30 to 40 inches) and Large (40 to 50 inches). They're 85 inches long. To select the size that's right for you, simply measure the width of your mattress. Because the fabric is "super-stretchy" any one of the sizes will accomodate a standard mattress depth.
You can use BunkSox as either a mattress cover or bottom sheet. And because the soft, durable fabric (50% cotton 50% polyester) is specially manufactured to stretch, the BunkSox conforms to just about any mattress, including a coil mattress or a V berth. Use it as V berth bedding, boat bedding or sailboat bedding.
When your BunkSox mattress cover/sheet gets dirty, just toss it in the washing machine. Launder it the way you'd launder marine bedding, sheets or blankets — no worries. It's manufactured to last, but you can double the life of a BunkSox sheet by alternating which side you sleep on.
Bunk Short Inserts For V Berths
Bunk Shorts are BunkSox inserts engineered to fit over V berth center cushion inserts. For a great fit, buy a BunkSox for each side of your V berth, then a Bunk Short to cover the cushion insert.
RV & Dorm Bedding
BunkSox are perfect as boat sheets or sailboat sheets, but you don't have to own a boat or work on a ship to enjoy the benefits of a BunkSox. They're great for dorm bedding, RV bedding, camping or the occasional night on the couch. Outfit your RV or boat with affordable, easy-care BunkSox, then keep one or two at home for travel or just in case.
Contact Us
---
Buy BunkSox Online
BunkSox
5015 15th Avenue NW
Seattle, WA 98107
Phone:
(206)783-1696
Email:
info@bunksox.com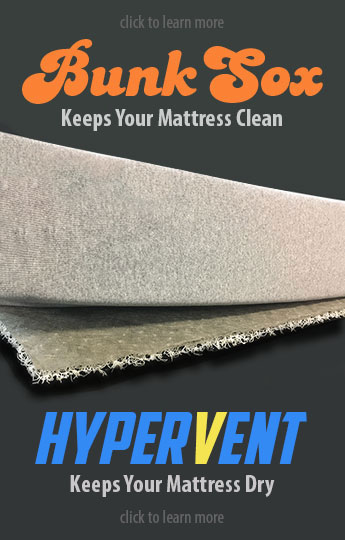 BunkSox & HyperVent
To fully protect your bunk or mattress consider purchasing a sheet of HyperVent to allow air to circulate underneath your BunkSox.
HyperVent is a woven polymer bonded to a breathable fabric. The ¾ inch polymer loops will not compress, allowing plenty of dry air to circulate under a bunk mattress.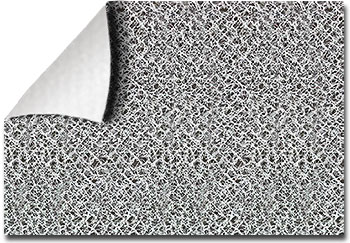 HyperVent Reduces Condensation
Fights Mold & Mildew
HyperVent reduces dampness and the dangers associated with too much moisture such as mold and mildew. It accomplishes this is two ways: 1) it improves the sleeping surface by providing space underneath the mattress for warm air to circulate, 2) the circulating air promotes evaporation.